(clicking on image opens larger image in a new window, close window to return)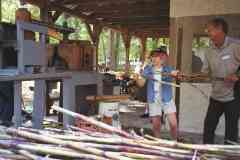 Tom Trimble, right, gets a hand feeding the powered mill from a young visitor. The mill is set up under the syrup shed. Just behind Tom is the canning room.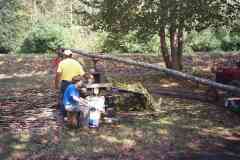 We used an early Farmall, which belongs to member Hubert Joiner, to grind cane in this Chattanooga mill.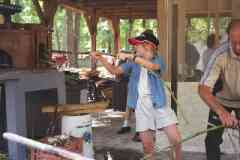 More cane being fed into the powered mill. We set the mill up to help keep up with the appetite of the continuous flow evaporator we use.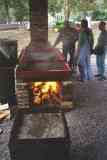 Our syrup maker, Mr. Caffee, from Goodwater, discussing syrupin' with Festival visitors. The furnace was constructed from old Shelby Iron Company bricks gathered from our site. The evaporator was built by a sheetmetal company in Birmingham for us.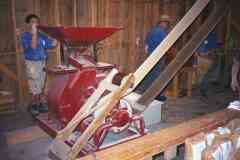 Historic Shelby member Rob Hilliker, right, sifts cornmeal ground on an early Meadows "Meal Master" stone burr mill. Rob operates the mill each festival. Helping here is a member of the Boy Scout Troop from Columbiana. They spent the weekend camping and helping us with the Festival chores. Also, the mill will be operating one weekend each month beginning in November. The blacksmith shop is located in the front shed of this building.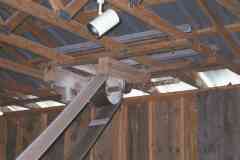 Detail of the pulley on the lineshaft that operates the grist mill. The lineshaft is powered by a 30 HP 4 cylinder LeRoi engine.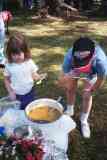 Halley, with the cap, and Katie Cotton tasting the hominy. Apparently Katie is not the hominy afficianado.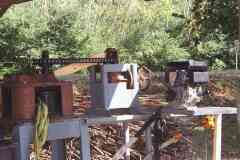 Gear reduction unit connected with gas engine. The setup was
constructed by Historic Shelby member Rubin Wade. Rubin was retired from U.S. Steel in Birmingham. He passed away in February of 2002.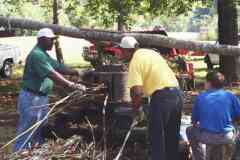 Member John Perkins, left, feeds the mill. John has been a member of Historic Shelby almost from our start in 1989. He takes a week's vacation from his regular job each October to help with festival preparation.
Below, two views of the sawmill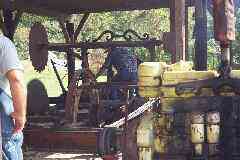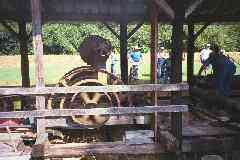 Manufactured by Lane & Bodley, Cincinnati, OH
Patent date on mill is 1870.
Over and under saw.
Knight patented dogs (or dawgs as we say around here :)
Originally powered by steam, we operate it with a 6-cyl. Cat engine.
Friction feed carriage. Rack & pinion driven.
Carriage is 30 feet in length.
The sawmill was erected at Shelby Iron Works Park about six years ago
primarily by Vernon Bishop of Pelham, Ala. and Jerry Willis of
Columbiana, Ala. (former Shelby fellow).
The man operating the mill above is Vernon Bishop. It was acquired
by Vernon a number of years ago. He is a longtime sawmiller of some
reknown around these parts.