Williams and his brother Mike were on hand, but their brother Lamar — father of Keith's wife Sharon — was not, having been hospitalized with heart problems. The rest carried on reluctantly without him.

"Back in those days you didn't have power to pull the mill. You had to have horses and mules. You had a long pole," James Williams said.

He and his brothers had to harness a horse to the mill at 4 a.m. in time to fill a 55-gallon drum with cane juice so their dad could start cooking at 6.

"We made all the neighbors' syrup," Williams recalled, estimating 1,000 to 1,500 gallons a year, usually between the second week of November and Thanksgiving, when the cane is harvested.

Syrup sold for 35 cents a gallon back then. Now it's $8 for little over half a gallon — if you can find any.

Zeb Williams kept a fourth of his customers' syrup in payment for his services. They also had to provide firewood and a mule to pull the mill. "We'd sell the extra syrup," James Williams recalled.

Guy's operation isn't a lot different from his grandfather-in-law's. He learned the trade mainly from the late Clifton "Pink" Williams, one of the brothers.

Instead of a horse, Guy uses an old Farmall tractor to power the mill with a pulley. The small mill grinds stalks of sugar cane, and the juice runs down into a plastic feed trough with screen on top to keep out the yellow jackets.
---
left, Feeding the mill, right, James Williams stokes the fire under a molasses cooker while his brother Mike, center, helps Keith Guy turn sugar cane juice into golden syrup in Lincoln County.
---
The green juice flows through a pipe and into the evaporator, or cooking vat, a five-chamber rectangular metal tray atop a brick kiln.
Guy cooks over a wood fire, which is more trouble but less expensive than propane.
---
left, Mike Connor, skimming. right, Keith Guy, son-in-law of Lamar Williams.
---
Cooking molasses is an art that requires a lot of skimming and stirring as water is cooked out and impurities removed.
"It's really just kind of looking at it and knowing it's ready," Guy said. "It's not exact."
Pointing to the final chamber where the frothing juice has become syrup, he said, "When it starts that heavy pop, that's when it's molasses, and you see the redness too."
---
left, Almost syrup. right, Guy skims froth off a new batch of syrup which Rogers pours into a jug, while Mike Williams, left, tends to the evaporator.
---
A wide variety of factors affects syrup quality, including type of cane, type of soil and how much rain fell that year.
Periodically Guy opens a spigot and lets foaming hot liquid run through a burlap filter and into a barrel. His helper, Kent Rogers of Natchez, fills plastic jars with the syrup.
---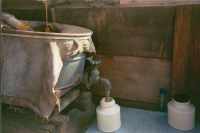 Liquid gold!
---
During a sugar shortage in World War II, mysterious customers would show up in southwest Mississippi wanting syrup in bulk, James Williams recalled.
The word was they were Tennessee moonshiners.
One man drove up with a flatbed 18-wheeler and asked Zeb how much he wanted for his syrup. On learning the price was 35 cents a gallon, the man offered 50 cents instead.
"It was the most money we'd ever seen at one time," James said.
---
Hewitt McCullough adds a jug of fresh syrup to the day's batch while his brother (with beard) discusses varieties of sugar cane. They brought their cane to Guy for him to turn into molasses.

---